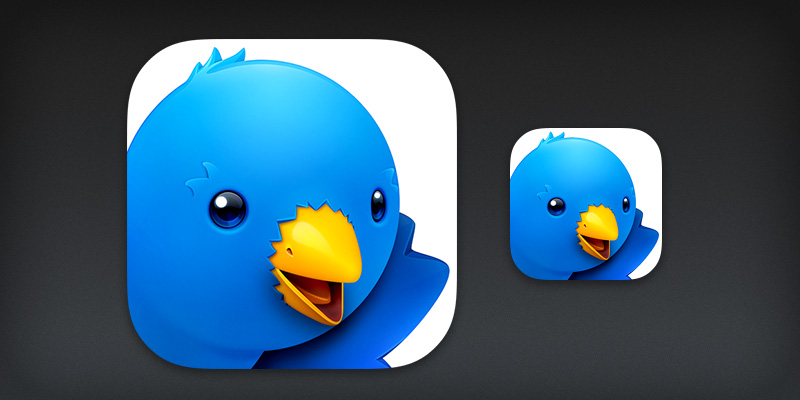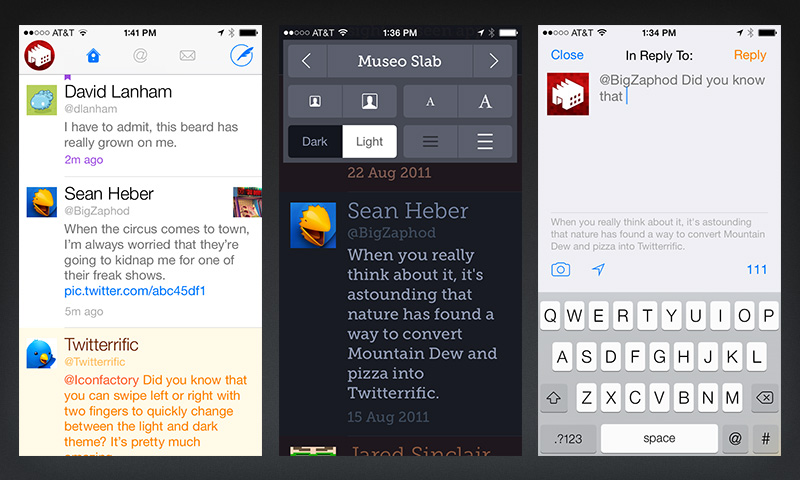 When Apple first announced iOS 7, customers and critics heralded Twitterrific as being ahead of the curve in many regards with the design for version 5, already in the App Store at the time. Months prior, we had taken a big step back to focus heavily on content, but after installing the iOS 7 betas we immediately saw that there was opportunity to be even more clean and focused in our presentation of the UI. Still using button shapes and gradient shadows, we discovered that several of our custom solutions could now be done natively. As a result, there was a lot of backend work to clean up the code as well as the visual design to prepare Twitterrific for the iOS 7 launch.
The result was a faster Twitterrific with subtle visual user interface design updates to align with the new OS, which helped to put the content in focus even more. We made quite a few adjustments to layout and colors, defined tints to denote actions and subtle background coloration to help distinguish between tweet types. In order to family with the new OS to a greater degree we adopted more standard bars and list views. This actually exposed that the fully black colors of the dark theme weren't necessarily the best for reading. So the dark theme was re-designed with a still very dark, but much more subdued palette that was easier on the eyes and created a better user experience. Many similar choices and updates were made with a sharp focus on how to best present content.
In considering how far to push Twitterrific's well recognized app icon toward iOS 7 styling, we did explore some flat options but in the end, keeping Ollie felt more familiar and enjoyable. What we did do were lot of subtle refinements to the illustration to match the color palette and contrast levels of the new icon design language, which over time isn't about reducing detail, but more about increasing the speed of identifying the icon you're looking for by keeping it simple.
Apple featured Twitterrific 5.5 in "Designed for iOS 7" and featured it as one of the "Best New Apps". Check it out on the App Store.